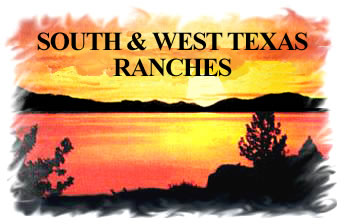 "Selling Quality South & West Texas Ranches"
Please Click the Arrowhead beside the ranch description for pictures
2499 +/- Acre Ranch - Val Verde County - A
paved road leads the way to this beautiful
property; old house and trailer; fences are
in excellent condition; good water wells &
electricity; loaded up with wildlife; place
has great topography if one likes hilltops

10,000 +/- Acre Ranch - Val Verde County -
Exotic and whitetail deer, turkey, dove &
quail abound; county maintained road to
the ranch; water wells; high mountains &
deep canyons; vistas out of this world

9049 +/- Acre Ranch - Val Verde County - It
takes only a minute to see the high protein
plant life is thick on the ranch; large bucks;
20 + miles of piped water feed the watering
stations, big dirt tanks, several water wells
with good GPM; large hunting headquarters

10,199 +/- Acre Ranch - Val Verde County -
Mountainous terrain with deep canyons to
hide Ole Mossy; spectacular views; seven
wells; exotic & whitetail deer, dove, quail
and turkey; good roads; great tree cover;
Indian caves; excellent creek
Arrowhead Ranches Home Trail
Notice: Full descriptions and locations on these
ranches will be provided to Buyers/Principals who
contact us directly requesting detailed information



Home / Welcome / Hill Country Ranches / South & West Texas Ranches / Large Exotic Ranches / Contact
Scouting Ranches For Buyers / Selling Ranches For Owners / Wildlife News
NOTICE: Information shown here is from sources deemed to be reliable but is not warranted by this Broker. Properties displayed herein are subject to errors, omissions, changes in price or terms, prior sale, or withdrawal from the market without notice at any time. The contents hereof are not presented as an offer to sell, but are merely descriptive in nature. Any offer must be based on the buyer's own investigations and not representations made by this Broker or any other Broker, regarding water, endangered species habitat, EPA regulations, and all other aspects related to these properties.