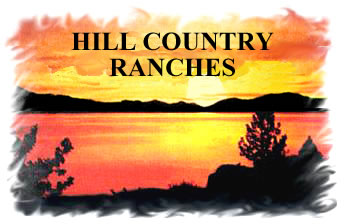 "Selling Quality Texas Hill Country Ranches"
Please click the Arrowhead beside the ranch description for pictures.
525 +/- Acre Ranch - Lampasas County - All
types of wildlife abound; paved road to the
front gate; lots of hilly areas covered in oak
and cedar; coop water line; great potential
as a development property; priced to sell
1000 +/- Acre Ranch - Blanco County - Oak
covered ranch with paved road frontage;
headquarters; several tanks; pretty hilltop
views of the Hill Country; deer and turkey
have been nurtured; priced at appraisal

300 +/- Acre Ranch - Hardin County - Land
is timbered with hardwoods & pines, a few
creeks meander the superb vegetation to
provide water for deer, hogs & many other
varieties of game animals

209 +/- Acre Ranch - San Saba County - Get
your fishing pole & wander through the tall
oak, elm, and pecan trees to the water hole;
nice creek; high fenced; barn & small house;
exotics, whitetail, turkey, quail & dove

1289 +/- Acre Ranch - Schleicher County -
High fenced game ranch managed for the
deer and exotic populations for several
years; two wells; 1200 square foot lodge;
black buck, whitetail, birds & many other
types of game; small seasonal creek

1199 +/- Acre Ranch - Menard County - San
Saba River runs long and hard on this one;
highway access; big oak and cedar trees at
every angle; oat fields; great hunting cabin;
loaded with deer and turkey; pretty as Texas
Notice: Full descriptions and locations on these
ranches will be provided to Buyers/Principles who
contact us directly requesting information

Home / Welcome / Hill Country Ranches / South & West Texas Ranches / Large Exotic Ranches / Contact
Scouting Ranches For Buyers / Selling Ranches For Owners / Wildlife News
NOTICE: Information shown here is from sources deemed to be reliable but is not warranted by this Broker. Properties displayed herein are subject to errors, omissions, changes in price or terms, prior sale, or withdrawal from the market without notice at any time. The contents hereof are not presented as an offer to sell, but are merely descriptive in nature. Any offer must be based on the buyer's own investigations and not representations made by this Broker or any other Broker, regarding water, endangered species habitat, EPA regulations, and all other aspects related to these properties.